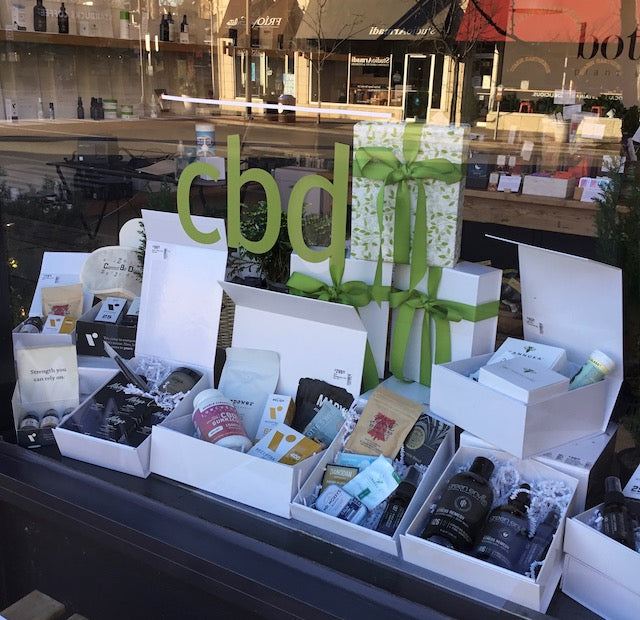 Below are some ideas for cbd gift boxes, but you can make up your own gift box with any product you like. Simply add Build Your own Gift Box to your cart and then choose any products you want to go in the box. Use the links below to find great items for your gift box.
We'll package your products in a beautiful glossy white gift box and wrap it up with a green ribbon. Leave a message at checkout if you would like a gift tag added and tell us what to write.
Free Shipping on all gift boxes. We use USPS for shipping 1st Class or Priority, depending on the weight of the gift box.
This CBD Bath and Spa Products Gift Box would be $115.97 and includes:

This CBD Keep Calm & Focus Gift Box would be $128.90. Links to products in this box are below but feel free to customize any way you like.

This CBD Uplift + Downshift CBD Gummies Gift Boxes will help you prep for a great start to your day and then prep for a great night of sleep. Cost would be $56.90

Add the following items to your cart:

This CBD Uplift + Downshift Gift Box will help you prep for a great start to your day and then prep for a great night of sleep. This box would cost $156.80

Add the following items to your cart:

This CBD Uplift + Downshift Gift Box will help you prep for a great start to your day and then prep for a great night of sleep. This gift box would cost $106.88.

Add the following items to your cart:

This High CBD Pre-Roll Gift Box is great for those wanting to give cbd smokes a try. Secret Nature pre-rolls are made with premium quality hemp and are available in 2 packs or 7 packs. The sampler pack pictured here would cost $52.

Add the following to your cart:

For other CBD Smoke Products, visit our CBD Smokes Product Page